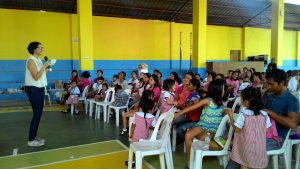 The Adarna Group Foundation, Inc. (AGFI), in partnership with the local government of San Antonio, Quezon, completed the pilot implementation of the Barangay Early Literacy Program for beneficiaries of the Pantawid Pamilyang Pilipino Program last December 9 in the said municipality.
The Department of Social Welfare and Development (DSWD) Field Office IV-A has partnered with the AGFI to better encourage the Pantawid Pamilya parent-grantees to support the education of the children, in support to one of the goals of the program, which is to ensure all children are in school.
A total of 50 parent-grantees and four to five-year-old children of the Pantawid Pamilya program in the said municipality participated in this activity.
The AGFI, through their Barangay Early Literacy Program, promotes the importance of early literacy to barangays and institutions through art, music and movement class for small children and their parents.
According to DSWD Field Office IV-A Regional Director Leticia T. Diokno, the collaboration between the DSWD and the AGFI complements the resources and services of the two offices in addressing the needs of the disadvantaged families, particularly the beneficiaries of the Pantawid Pamilya program.
Activities during the pilot implementation of the program include discussion on the significance of exposing children to early literacy, storytelling session, music and movement activity and distribution of story books.
Further, the AGFI also conducted a workshop on the development of materials, creative presentation and storytelling for children to a total of 22 child development workers from the said municipality.
The DSWD Field Office IV-A is continuously engaging the AGFI as a civil society organization partner for their various child literacy programs. Through this partnership, other literacy programs are set to be conducted for other beneficiaries of the Pantawid Pamilya in other parts of the region.# with reports from HSMaligaya & MAGDiaz