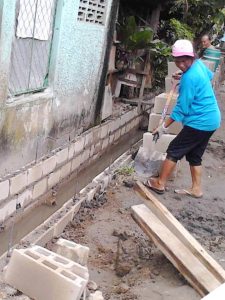 Four local government units (LGUs) of Quezon Province are granted with a total of PhP26.92 Million by the Department of Social Welfare and Development (DSWD) as an incentive for successfully adapting the community-driven development (CDD) strategy of the Kapit Bisig Laban sa Kahirapan-Comprehensive and Integrated Delivery of Social Services (Kalahi-CIDSS).
The said LGUs are Tagkawayan, Alabat, Perez and Gumaca, which are all assessed to have effectively complied with the CDD standards of the Kalahi-CIDSS based on their performance in the program's implementation from 2014 to 2016.
The total cost of the incentive grant is funding a total of 22 new community projects to help improve the delivery of basic social services in the communities. Projects include sanitary toilets, river control protection, seawalls, day care centers, water systems, access roads, evacuation centers and footbridges, which are being implemented by the residents this year.
The town of Tagkawayan is granted with PhP15.22 Million for nine projects, Alabat with PhP6.20 Million for six projects, Perez with PhP4.96 Million for six projects, and Gumaca with PhP539,000 for one project.
According to Ma. Philda Luteria-Potes, the Kalahi-CIDSS Community Development Specialist in the CALABARZON Region, these LGUs have successfully adopted the Participatory, Transparency and Accountability (PTA) principles of the program not just in the Kalahi-CIDSS implementation but also in their own local development programs.
One of the evidences is the inclusion of representatives from the vulnerable sectors in their local development councils for a more holistic and need-responsive decision-making of development projects and activities.
Further, Potes said that the residents in these areas were successfully empowered to engage in the development process of their communities, which are reflected in the fast and efficient construction of the community projects and liquidation of funds in their previous program implementation.
"We have high participation rate of residents attending barangay assemblies in these municipalities. Here in Kalahi-CIDSS, assemblies are very important as this is the venue where residents exercise their power to decide and plan as one community," Potes said.
The Kalahi-CIDSS is one of the poverty reduction programs of the DSWD that applies a bottom-up approach in the planning, decision-making and implementation of community projects. Aside from the four towns, the Kalahi-CIDSS program is implemented in 12 other towns of Quezon Province.#