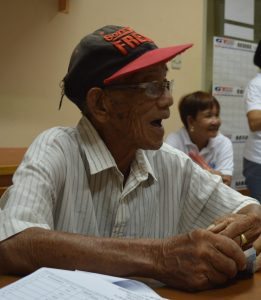 The Department of Social Welfare and Development (DSWD) Field Office IV-A announced that starting September this year, beneficiaries of the Social Pension for Indigent Senior Citizens program in the region will begin receiving their monthly pension at their doorsteps.
This is after the signing of the Memorandum of Agreement with the Philippine Veterans Bank last August 15 for contracting the bank's services for the door-to-door delivery of the monthly cash assistance to the indigent senior citizens.
According to DSWD IV-A Regional Director Leticia Diokno, this initiative will ensure that the assistance is being brought closer to the senior citizens and the pension is delivered timely and for the convenience of the beneficiaries.
Dir. Diokno further noted that the provision of social pension to the beneficiaries will be done in a quarterly basis, which means that a beneficiary receives PhP1,500 per payout period.
Philippine Veterans Bank Senior Vice President Vilma Noche assured the DSWD of their commitment to provide their services for the beneficiaries and pledged their support to also help the DSWD in monitoring the social pensioners through the provision of reports of their staff's observations in the condition of the beneficiaries during door-to-door payouts.
Since the implementation of the said program in 2011, senior citizens receive their monthly pension quarterly through payouts conducted by the DSWD in their respective cities / municipalities.
To date, a total of 85,639 social pensioners in the region will benefit from the said door-to-door delivery.
Enlistment of new beneficiaries
The Social Pension for Indigent Senior Citizens is an ongoing program implemented by the DSWD in accordance to the Expanded Senior Citizens Act of 2010. Qualified beneficiaries are those age 60 years old and above, are frail, sickly or with disability, and are not receiving any pension and have no permanent source of income or regular support from relatives.
Beneficiaries are provided with PhP500 monthly assistance and paid in a quarterly basis to augment for their basic and medical needs.
Ms. Cefronia Majuelo, the focal person of the program in DSWD Field Office IV-A, shared that senior citizens who are not yet beneficiaries of the program may contact their respective Office of Senior Citizens Affairs or City / Municipal Social Welfare and Development Office for assessment of their eligibility through the submission of the senior citizen's identification card or birth certificate.
Majuelo emphasized that being a beneficiary of the program is not automatic.
"Eligible senior citizens will be waitlisted by the local government unit and will be submitted to the regional office for enlistment to the program in its expansion depending on the availability of slots and funds," explained Majuelo.
Further, it is noted that senior citizens who are 75 years old and above and meet all of the criteria are given priority.#