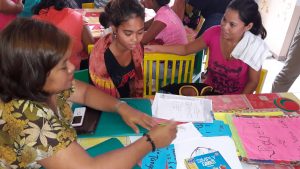 A total of 20 volunteers have been trained by the Department of Social Welfare and Development (DSWD) Field Office IV-A in the provision of Early Childhood Care and Development (ECCD) Modular Learning Sessions for Sama-Bajau Children.
These volunteers include Sama-Bajau mothers, child development workers and representatives from non-government organizations (NGOs) and local government units (LGUs) of Balayan and Batangas City in Batangas and Lucena City in Quezon.
The said areas are the pilot implementation areas of the Comprehensive Program for Sama-Bajau, a social technology program developed by the DSWD that provides a package of assistance to Sama-Bajau families and children to keep them away from the streets and reduce their vulnerabilities through the coordination with LGUs and partner NGOs.
The ECCD Modular Learning Sessions are formulated to help respond to the needs of the Sama-Bajau children through providing them with a culture-based early childhood enrichment activities to help them be prepared to join the formal learning system.
At least 150 Sama-Bajau children are expected to benefit from these learning sessions.
Sessions have already started in Lucena City last June 2016 while sessions in Balayan and Batangas City are set to start this July.
To date, there are a total of 742 Sama-Bajau families who are beneficiaries of this Comprehensive program in Lucena City, Batangas City and Balayan, Batangas.# with reports from JMNodora