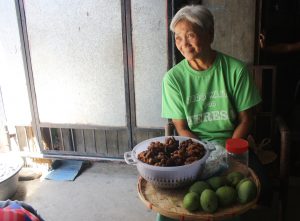 At 73, Lola Jasmin Francisco, a widow, can be seen selling fruits in season in front of her house in Brgy. San Roque in Teresa, Rizal Province.
Despite her age, she needs the income, no matter how small, to support most of her needs, especially her medications.
She is suffering from high blood pressure, high uric acid and asthma. According to her, her maintenance medications are quite costly and usually, her small income is not enough to buy them regularly.
"Nangunguha ako ng Indian mango at sampalok sa may bukid, 'yun ang tinitinda ko. Noon, nagtitinda rin ako ng halo-halo dito pero itinigil ko na dahil hina-highblood ako," Lola Jasmin shared.
Although she lives with two of her children and receives support from them occasionally, she believes that she still needs to earn for herself and does not want to rely on her seven children because they have families of their own now.
"Yung anak kong lalaki, contractual lamang, parang janitor lang. 'Pag nabigyan ako ng konti, 'yun ang pinangtutustos ko sa pang-araw-araw," Lola Jasmin said.
With her age and her usual financial struggles, she does not want to feel helpless. Hence, she continues finding ways to support herself.
Getting an unexpected help
In 2014, Lola Jasmin became a beneficiary of the Social Pension for Indigent Senior Citizens implemented by the Department of Social Welfare and Development (DSWD).
The Social Pension program, a provision mandated in the Expanded Senior Citizens Act of 2010, provides PhP500 monthly cash assistance to indigent senior citizens age 60 years old and above for their daily subsistence and medical needs.
Qualified beneficiaries are those who are frail, sickly and disabled, who do not receive support from their families and who do not receive pension from the government or private agencies.
For Lola Jasmin, the program is a big help for a senior citizen like her who has a limited capacity to support herself.
"Ako ay nagpapasalamat kay Lord at nagkaroon ako ng Social Pension. Malaking kaluwagan na sa akin ang natatanggap kong PhP500 buwan-buwan," she shared.
She shares that she allots the cash assistance mainly for her medicines.
In the CALABARZON Region, Lola Jasmin is one of the 85,639 beneficiaries of the Social Pension program.
Being identified as poor                                                                          
Lola Jasmin recalls how she became a beneficiary of the Social Pension program.
"Bigla na lang sinabi ng president (Federation of Senior Citizens) namin, na umaattend ng meeting na kasama raw ako sa pensioner, basta sinabi n'ya na kasali ako sa "poor," she shared.
To be a beneficiary of the Social Pension program, the senior citizen must belong to the list of poor households as identified by the DSWD's Listahanan targeting system, previously the National Household Targeting System for Poverty Reduction (NHTS-PR).
The Listahanan is an information management and targeting system that identifies who and where the poor are in the country through a house-to-house assessment of households. It maintains a database of poor households, which is used by the DSWD in the identification of beneficiaries for the poor such as the Social Pension and the Pantawid Pamilyang Pilipino Program.
Lola Jasmin's household belongs to the 389,811 poor households in the region identified during the first assessment in 2009.
In 2015, the DSWD conducted its second assessment of poor households nationwide. In the region, the updated database of poor households will be launched this June 2016.
The DSWD continues to advocate to stakeholders including local government units, national government agencies and civil society organizations to partner with the agency in using the said updated database in targeting beneficiaries for their respective programs for the poor.
For Lola Jasmin, being included in the list of poor households opened an opportunity for a senior citizen like her to get the support she needs.
But even with the monthly pension from the government, Lola Jasmin continues to find ways to earn a living so that she can provide for her other needs without relying so much from the assistance and from her children.#