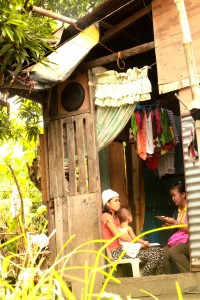 The Department of Social Welfare and Development (DSWD) had completed the second round of the Listahanan household assessment in the CALABARZON Region and is set to release an updated database of poor households by June 2016.
The Listahanan, previously the National Household Targeting System for Poverty Reduction (NHTS-PR), is an information management system that identifies who and where the poor are in the country. It makes available to national government agencies and social protection stakeholders a database of poor families as reference in identifying potential beneficiaries of programs and services for the poor. In DSWD's case, the said database is being used in targeting beneficiaries of the Pantawid Pamilyang Pilipino Program and the Social Pension Program for Indigent Senior Citizens.
A total of 1,271,770 households were assessed all over the region from April to October 2015 through the house-to-house survey conducted by DSWD-hired enumerators.
The said assessment aimed to update the database of the poor, which has 389,811 identified poor households and was generated from the first assessment of the NHTS-PR in 2009.
After the survey and the analysis of the collected data, the DSWD released a preliminary list of poor households in October 2015, which was posted in every barangay for validation of the local residents.
The posting of the preliminary list is part of the validation process of the Listahanan that engages the community members in checking the accuracy of the list.
During the validation phase, which ran from October 2015 to January 2016, the DSWD received a total of 295,938 complaints, particularly on the inclusion and exclusion of households in the list of the poor. The DSWD responded to these complaints through the review of the assessment forms and even the reassessment of some households.
"The validation is an important phase in the Listahanan assessment because it is how the DSWD ensures the accuracy of the list of poor households that will be generated" said Ms. Mylah S. Gatchalian, the Listahanan Deputy Regional Project Manager and Assistant Regional Director for Administration of DSWD IV-A.
To date, the DSWD is finalizing the results of the validation to come up with an updated database, which will be used by the agency in targeting beneficiaries of its programs for the poor.
Further, Ms. Gatchalian encourages local government units, academes and civil society organizations to use the updated database of poor households for their programs for the poor through entering into a data-sharing agreement with the DSWD.#