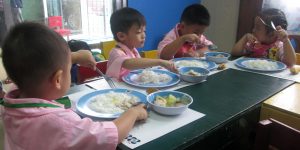 A total of 201,010 children underwent the 120-day feeding program of the Department of Social Welfare and Development's (DSWD) Supplementary Feeding Program (SFP) for the school year 2015-2016. These children are those enrolled in the 4,135 day care centers and 208 school neighborhood plays in the CALABARZON Region.
Of the total number of beneficiaries, 9,606 children belong to Pantawid Pamilyang Pilipino Program household-beneficiaries in the region.
The SFP is part of the DSWD's contribution to the Early Childhood Care and Development program that provides food, in addition to the regular meals, to two to five-year-old children currently enrolled in day care centers or supervised neighborhood plays.
This feeding program, managed by the beneficiaries' parents, aims to improve and sustain the nutritional status of the beneficiaries through the provision of hot meals for 120 days. Parents of the child-beneficiaries are engaged in the preparation of the meals to help teach them prepare cheap but nutritious meals for their families.
In the implementation of the SFP, the DSWD Field Office IV-A has allocated a total of PhP313.58 Million to 124 local government units, through their respective local social welfare and development offices.
Of this fund allocation, PhP71.33 Million was allotted to Cavite Province for 45,728 beneficiaries in 22 LGUs; PhP62.81 Million to Laguna Province for 40,260 beneficiaries in 28 LGUs; PhP66.45 Million to Batangas Province for 42,597 beneficiaries in 29 LGUs; PhP63.97 to Rizal Province for 41,004 beneficiaries in 14 LGUs; and PhP49.02 Million to Quezon Province for 31,421 beneficiaries in 31 LGUs.#