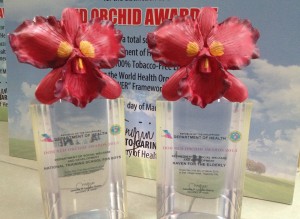 The National Training School for Boys (NTSB) and the Haven for the Elderly (HE), two centers managed by the Department of Social Welfare and Development Field Office IV-A, received the Department of Health's Red Orchid Award for implementing a 100 percent tobacco-free environment and following the World Health Organization's MPOWER Network.
The said recognition was awarded to the centers last March 31 in Tagaytay City.
The NTSB is a residential care facility that provides protection and parental care to CICLs. The center provides rehabilitative services to the clients in a residential setting to prepare them for adjustment with their family and community after discharge. Meanwhile, the HE caters to senior citizens who are abandoned, neglected and needy.
Both centers are located in Brgy. Sampaloc in Tanay, Rizal Province.#