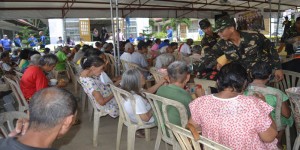 The residents of the Haven for the Elderly joined in the celebration of the National Family Week last September 26, 2015 together with various partners and staff of the center.
With the theme "Pamilyang Pilipino, matibay na kaagapay para sa kaunlaran," the celebration highlighted the importance of the family to individuals, particularly to the residents who are longing to be together with their respective families.
Mr. Ricky Bunao, the center manager of the Haven for the Elderly, emphasized to the elderly that their families now are their fellow older persons, the center staff and the donors and sponsors of the center.
Considering the elderly residents as families, various partners joined the celebration to serve and entertain the residents.
Bunao thanked the partners for their continuous support to the center, particularly the clients being cared for in the institution.
Among the partners during the activity are the Armed Forces of the Philippines 59th Infantry Battalion, the Rotary Club of Manila South, the Rotary Club of Eastwood, field instruction students from Bicol University, students from the University of the Philippines and the Franciscan Sisters Hospitaller.
The partners entertained the elderly residents through music, dance and inspirational talks.
The Haven for the Elderly is an institution managed by the DSWD Field Office IV-A that caters to senior citizens who are abandoned, neglected and needy.
To date, there are more than 200 elderly residents being cared for in the center.#