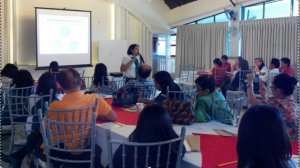 The Department of Social Welfare and Development (DSWD) will hand over the processing of payments for beneficiaries of the Social Pension for Indigent Senior Citizens to local government units (LGUs) starting this last quarter of 2015.
A total of 94 LGUs in the CALABARZON Region will be piloting this new process.
Currently, the DSWD regional offices manage the payment of monthly pensions to beneficiaries. In the new process, the DSWD will transfer funds to the LGUs for direct release to the senior citizens to help speed up the process of providing help for the needs of the beneficiaries.
According to Cefronia Majuelo, focal person for the Social Pension Program in DSWD IV-A, the new process is piloted to good performing LGUs specifically those with good track records in the program implementation and liquidation of funds.
Prior to the fund transfer, the LGUs must enter into a Memorandum of Agreement with the DSWD and pass a resolution adopting the said process until November 10, 2015.
The DSWD Field Office IV-A is currently preparing the LGUs for this new process through an orientation of the fund transfer scheme.
The Social Pension Program is based on the Expanded Senior Citizens Act of 2010 that provides PhP500 monthly pension to indigent senior citizens age 65 years old and above who are frail, sickly or with disability to help meet their daily subsistence and medical needs. Qualified beneficiaries are those not receiving any pension and those who have no permanent source of income or regular support from relatives.# with reports from CMSantiago