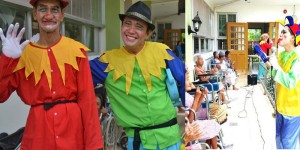 The residents of the Haven for the Elderly in Tanay, Rizal Province enjoy therapy sessions through regular elderly clown programs conducted by the Center as part of helping the older persons, especially those who are bed-ridden and who have dementia.
According to Ricardo Pening, the center's resident psychologist, this activity is a therapeutic session that helps improve the psychosocial skills of the residents.
The elderly clown program employs the use of clowns who are usually center staff, student-interns, volunteers or residents themselves. The program includes singing, story-telling and dancing among others that allow the older persons to participate freely.
The program also reminds the residents of novelty songs from when they were younger.
"Through the use of humor and music, we are helping the older persons improve their wellbeing, which is beneficial for their health and everyday life during their twilight years," said Pening.
He added that the laughter and participation from the residents during the elderly clown program sessions are enough proof of the effects of this therapy for the older persons.
The Haven for the Elderly is a residential facility managed by the Department of Social Welfare and Development (DSWD) Field Office IV-A. The facility provides care to senior citizens, age 60 years old and above, who are abandoned, neglected and needy.
The elderly clown program is one of the services provided to the older persons among a range of other services such as home-life, health, livelihood, spiritual and recreational services.
To date, there are 237 senior citizens being cared for in the said center.#