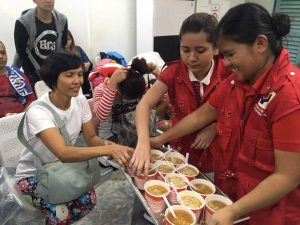 About 2,500 passengers who were stranded in Batangas Port because of Typhoon Nina were provided hot meals through the Armed Forces of the Philippines (AFP) mobile kitchen set up in the said port last December 27, 2016.
The said mobile kitchen was made in coordination with the Department of Social Welfare and Development (DSWD), the provincial government of Batangas, the Philippine Ports Authority and the Asian Terminal Incorporated.
According to the DSWD, the need for the setting up of the mobile kitchen was due to the significant number of stranded passengers who were bound to regions MiMaRoPa, VI and VII since December 24.
The DSWD Field Office IV-A, through its Quick Respond Fund, funded a total of PhP26,573.00 as augmentation support to this mobile kitchen. The said amount covered the purchase of hot meals including rice, corned beef, chicken arozcaldo and beef noodles served from 8:00 AM to 6:00 PM.
The AFP, on the other hand, managed the mobile kitchen and provided gallons of water to cover the needs of the passengers.
The AFP mobile kitchen is donated to the Philippines by the Korean Government after its use during the Yolanda operations in 2014.#